I don't believe this shit ! Selfie capital of the world?
Show that Filipino pride my fellow Manilenos and Manilenas.
What is it about taking selfies that is so intriguing?
Let's go check this out!
There is always somebody taking a selfie. You even hear about it in the news!
S
tudent Breaks 19th Century Greco-Roman Statue While Taking a Selfie !!! Fucking hilarious if you ask me.! "OK, let me take a selfie sitting on his lap... ooops.... did i do that? Goodbye Instagram post"..
C'mom Kim, really? A freaking wedgie?!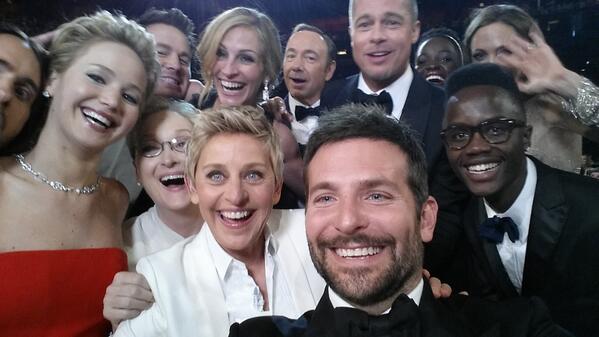 Ellen's famous star packed selfie at the Oscars which supposedly crashed Twitter for a few minutes.
Holy Shit! I mean Holy Heck. Even the Pope is doing the selfie!
In an era of social media and instant gratification, selfies has become the new self acknowledgement tool sweeping the cyberspace. Gone are the days when photos are snapped and downloaded to the computer or go to the nearest drugstore to have the films developed.

Everything is now done through the mobile phone and at arm's length, the world can get a glimpse of your special moment in time.

The idea of being able to produce a self portrait at arm's length has given photography a new area of expertise. "Quick, let me be the center of attention, now". Exposing yourself to the world at that very moment as the drama continues to unfold.

We all want to be a part of something. And selfie is a quick way of capturing your moment, self approving of your creation, then share your artform for the world to see and "like"!

Some may say that the age of selfies seems narcissistic in nature. Yet, I believe it is that and more. We all have some form of a "healthy nercissism". Bloggers have it. We believe that our ideas are worth writing and reading about. Posting a comment is healthy narcissism. Believing your opinions counts too.

It's the unhealthy side of the spectrum that can stink. It's the kind of behavior when no one else is right but me and no other opinion counts but myself. I can never fail and it's someone else's fault that's why I failed.

Sounds lonely, doesn't it?
Filipinos are by far believers of simply just having fun! And taking selfies are a sure way of sharing to the world the art of having fun.
And with the famous "Bahala Na" , whatever will be...will be, attitude of Filipinos, one cannot disregard the fact that their wit can and has gone global.
We can surely use a recreation every now and then.
Go on and take a selfie. You'll never know. You might think of something or stumble upon something which can be the next big thing in cyberspace.
Good Luck!
"There are three things extremely hard: steel, a diamond, and to know one's self".
-
Benjamin Franklin
You Might Also Like:
Oh Juan Pablo....Tell Me You Love Me!
Pizza At The Oscars? What?
Talk Dirty To Me....What?
Justin Bieber Moving Where?...What?
Will You Accept This....What?